Paris-Brest-Paris Logistics to the Start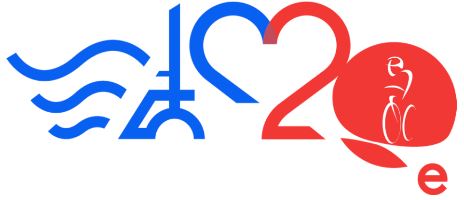 General John J Pershing once said: "Logistics wins war." The purpose of this write up is to share my personal experience in planning my 2 trips to France to complete the 18th and 19th edition of PBP. There are plenty of other blogs and posts where people will share their thoughts on how to train, what to expect on the route, how to manage your time during the event, what to eat, which controls to sleep, all the new friends you'll meet, etc etc. My goal is to provide some insights on the mundane but important task: how to get to the start.
As a caveat, my prior travel experience to France was in 2019, a year before COVID and all the ensuing turmoil and changes. I don't have any insight as to how much easier or harder it has become to travel to and in France. This write up is based on how things worked back in 2019.
How you plan your travel and where to stay will depend on knowing when you are starting:
80- and 90-hour groups starting on Sunday afternoon/evening, August 20, 2023

84-hour group starting on Monday early morning, August 21, 2023
Below is the chart showing the planned start groups and times from Paris-Brest-Paris.org.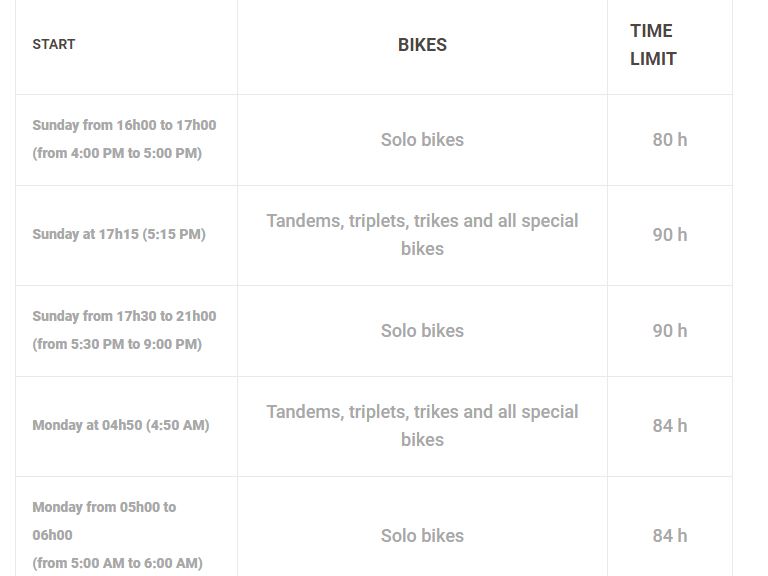 Booking Accommodations
All the cool kids are staying in Rambouillet (or those who booked early). Accommodations may be constrained as they are booked up quickly. 8000 of your new rando BFFs are expected. But bookings are fluid as people cancel for various and sundry reasons. So definitely keep enquiring during 2023 to find opportunities.
If you are starting on Sunday, you have more options. You are definitely able to find accommodations farther away from Rambouillet, even in Paris, and still have plenty of time to arrive at the start by train. A popular town for PBP participants to book accommodations is Saint-Quentin-en-Yvelines: the properties are near the station where trains reach Rambouillet and most have a history of and experience in serving PBP participants. In earlier PBP editions (before 2019), the national indoor velodrome in St-Quentin-en-Yvelines (SQY) was the start/finish location. For significant others and family who may be with you, SQY be more convenient for them as well since they will be closer to a train station and stores. If you want to take advantage of train travel to and from the start, then look for hotels near the train station between Montparnasse and Rambouillet (more on train travel later).
If your start is on Monday morning, the trains will begin service at or after the 84 hour start groups take off. You may need to look for a hotel in Rambouillet or an Airbnb somewhere close.
I am not a big fan of Airbnb. That said, many randos have had success. In 2019, a PBP participant booked a house in Rambouillet to find out upon arrival that the house number where he booked his Airbnb accommodation was non-existing between two houses. The word of caution is fraud. If you have tips on how to book accommodations successfully using Airbnb, please share.
In 2015, I booked my hotel through a company called Desperes owned and operated by Claus. He specialized in catering to PBP-bound US randonneurs. He had certain hotels pre-arranged near the start. In 2019 he retired. He transferred his PBP business to another company called Travelhaus. They are not continuing this PBP service for 2023, based on what I have heard.
For 2019 I relied on Expedia to find and book my hotel. I ended up at the Auberge du Manet. It was a nice property with large rooms and scenic surroundings in a pastoral setting. It was one of the hotel options offered by Claus back in 2015. The nearest train station was at Trappes about 1.3 miles away. There was a bus route that has a stop in front of the hotel and will take passengers to the train station.
My room at Auberge du Manet
Booking Flights (for San Diegans)
Flying out of SAN to Paris Charles de Gaulle Airport (CDG) is more expensive than out of LAX. Further, there are no direct flights out of SAN. Ultimately your air travel will be dictated by budget and whatever other commitments you have. Keep in mind that any lay over and plane change create an opportunity for your bike and other personal luggage to fly on another airplane, potentially to a destination other than CDG. Just checking on Expedia on Nov 8, a direct flight out of LAX is about the same price as one out of SAN with at least 1 layover. If you are planning a layover, then add 24-48-hour additional buffer to ensure that you have the time to recover your bike/luggage in the event that they are separated from your flight.
Travel Scheduling
I highly recommend that you plan a fairly sizeable buffer between your arrival in France and the start even if you are taking a direct flight. Itinerary that follows a published time table in this day and age is impractical expectation. Before the start on Sunday, you will also need to take care of registration on Saturday. At least give yourselves 48-72 hours before your Saturday registration so that you can assemble your bike, socialize with other randonneurs preparing for PBP, take in some sightseeing at your leisure.
In 2019, I flew to France 1 week ahead of PBP-start to embark on a bucket list tour of Normandy, visiting all the D-Day beaches. The ample time allowed me put my bike together and dial everything in. To shake out the bike, I went on a 150-mile tour of all five beaches and Sainte-Mere-Eglise where the US paratroopers landed. Here's my Strava activity with the route and some photos: https://www.strava.com/activities/2619335902
Packing Your Bike
If going to PBP in 2023 is your first time transporting your bike by airplane, here are some suggestions:
I highly recommend a dry-run to disassemble/pack/unpack/reassembly before you take off for France. You'll want to work out your routine and address any problems before getting ready for Paris. Fortune does not favor the procrastenators.
Take photos of your packing configuration so that you have a guide to repeat it. Knowledge is power but memory is temporary.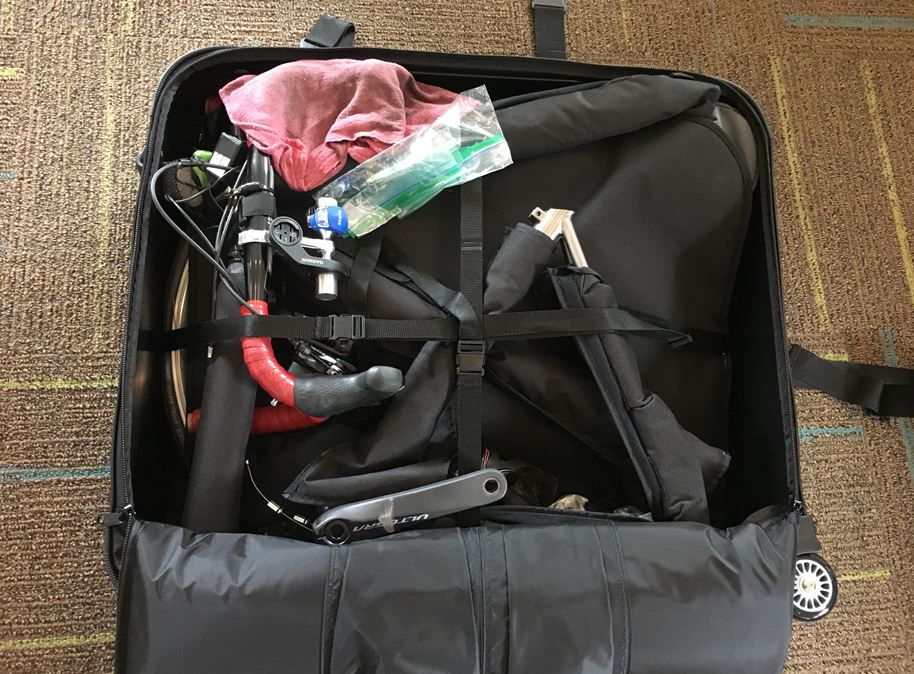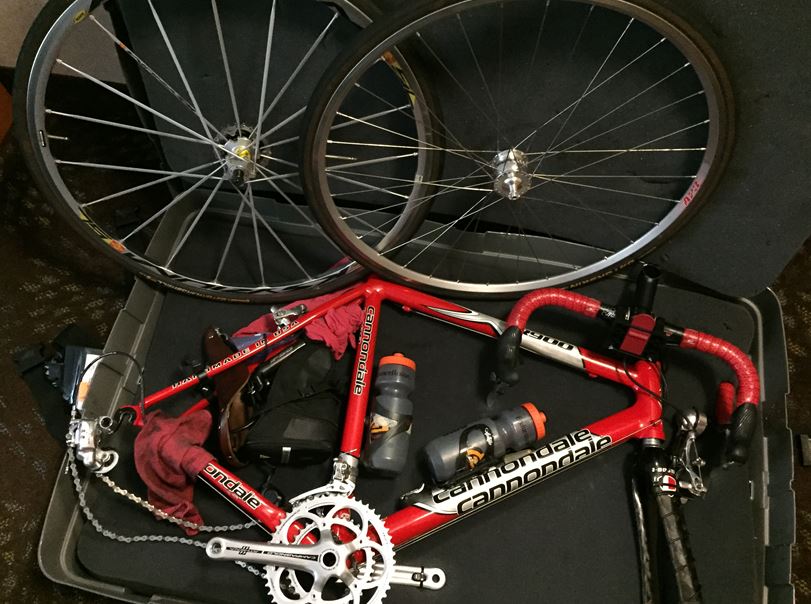 If you have special tools for your bike assembly/disassembly, take an inventory early and pack them with the bike. My tip is to consolidate your tools into a clean plastic Zip-Loc bag and store them in your empty water bottle(s) to keep them from rattling around in the bike box.
I found that cheap foam tubes/pool noodles are great for protecting your seat post and stays. Since they are hollow in the middle, I cut the noodle to the appropriate length and then cut again down the length of the foam tubes so that they can fit over the posts and/or stays. To secure them, I used tape or zip-ties. Leave them in your bike box for your return trip.
ALERT - You can be certain that the fine people from the TSA will open your bike box and will not return your packing exactly. Pack your bike with that certainty in mind. Best to leave the box unlocked and store nothing valuable except your bike stuff. I normally stuff my shoes, helmet and other cycling gear in with the bike
Pack zip-ties, cutters, electricians tape, rags, chain lube, in addition to tools.
In 2015, my participation in a SIR 1000 in July enabled me to work out my bike packing/unpacking/repacking routine before PBP. In 2019, though I drove to Flagstaff to take part in a 300k, I still packed my bike box as if I were flying to wring out all the bugs.
Pre-travel Bike Check
Check chain, rear derailleur jockey/pulley wheels, shifter cables and/or any part that wears. Make sure to change them out at least a month or 2 before flying out to France to break them in and discovery any issue. Bike mechanics, however conscientious and careful, will sometimes forget to tighten a screw correctly. Best to find out that the screw comes loose while in the US on a training ride before you are in France rather than somewhere between Loudeac and Carhaix at night in Day 2.
Whatever bike you are riding in January, plan to make that your bike for PBP. Minor upgrades and adjustments should be done as you gain more experience during the qualifying brevets. If you plan to change out your saddle or even your bike, make those changes early and not late in order to break in the saddle or figure out how that new bike and equipment work. It would be a tragedy to end your first PBP with a DNF because the new saddle chafed and caused saddle sores or the new wheels make tube change after a flat nearly impossible while you are near the time cut off.
San Diego to LAX by Public Transport
If you have a loving family who will not mind waiting in the I-405 parking lot to drop you off or pick you up at LAX, you are a lucky randonneur. In 2019, I found a way to travel from San Diego to LAX and back without the need to encumber my family:
Board the Surfliner to Union Station, Downtown LA (hope the tracks in San Clemente will be fixed by next August).
Jump on the Union Station FlyAway bus to LAX (https://www.flylax.com/flyaway-bus/union-station). Since your bike is boxed, it can be placed in the luggage storage bays on the charter bus. $10 each way. You can book/pay in advance.
Reverse order for your return. I disembarked at Solana Beach Station, sparing my wife from the horrible drive to LA.
Paris-CDG Airport to Rambouillet or Your Hotel by Public Transport
There is a train/Metro combo route from the airport to Gare Montparnasse. Someone noted that the Metro does not allow bicycles. Further, I recall there is a train change. There may also be repair work along the way that may require you board a bus.. After a long flight, it's unnecessary stress to carry your luggage and bike box from platform to platform. Aside from Uber or taxi, you can take the Oasbus from CDG to Gare Montparnasse (https://www.oasbus.com/cdg-paris-montparnasse/) where you can then board Ligne N train. You can purchase your train fare at the ticket machine (credit cards accepted). Look for the train that has "Rambouillet" as the end station.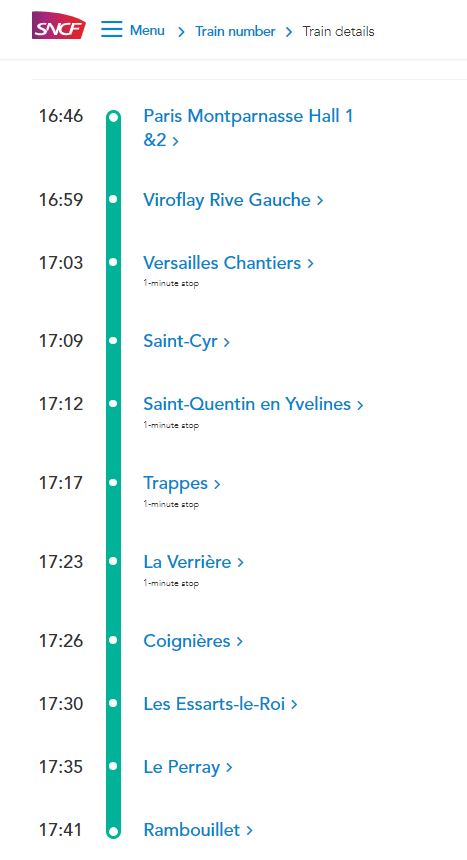 If your hotel is near the train station, then a local taxi or bus can get you where you need to go.
Additional resources on ways to travel from CDG to Gare Montparnasse (https://www.topparistransfer.com/blog/charles-de-gaulle-to-gare-montparnasse/)
Pre-ride Registration
When you are signing up for your start group, you will be prompted to schedule a time for bike inspection and registration check in. My recommendation is to book the earliest time possible.
Hack – bike inspection officials don't really check your appointment time. If you are stuck with a late or later inspection time, show up early and take care of your pre-PBP paperwork sooner rather than later. In 2019, though my scheduled inspection time was at 11am. I showed up at 8 or 9am and took care of my registration without having to wait in line. For those who showed up later that day, the wait was more than an hour to get through inspection. Worse yet it was raining throughout that Saturday afternoon. While others groused in the wet, I enjoyed the dry warmth resting in my hotel room and then some final shopping at the Carrefour in St Quentin.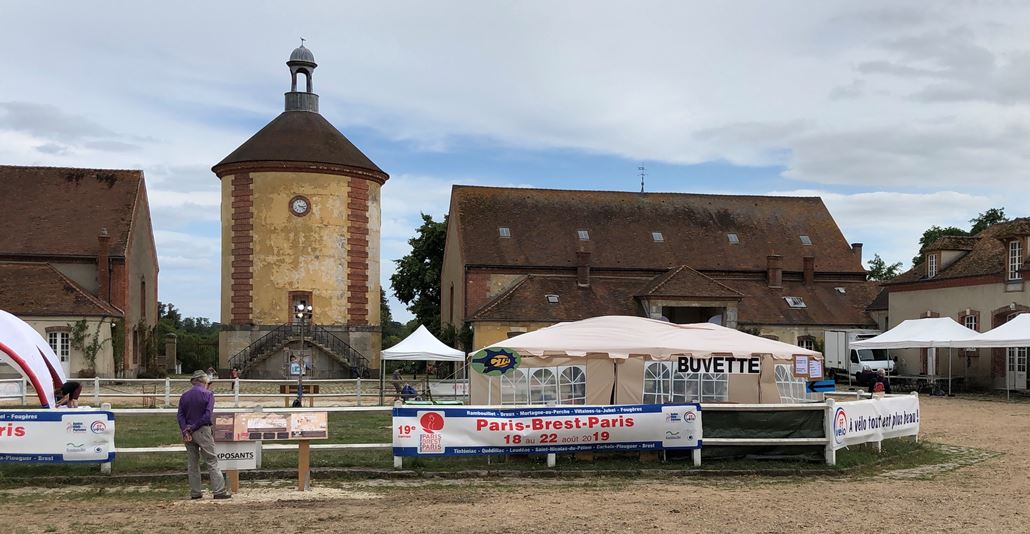 Rambouillet where the adventure starts.
Below is a photo of the items you will pick up at registration: brevet card (actually a booklet to get your control stamps), nifty plastic pouch that you won't need anymore in the US since most regions have gone to EPP, your participant number sticker to place on your helmet, your badge that has a timing strip to record your arrival time at each control for family and friends to track your progress, and the ubiquitous hi-viz PBP vest (in the back pack) that you will wear on every brevet after your finish to show off your achievement.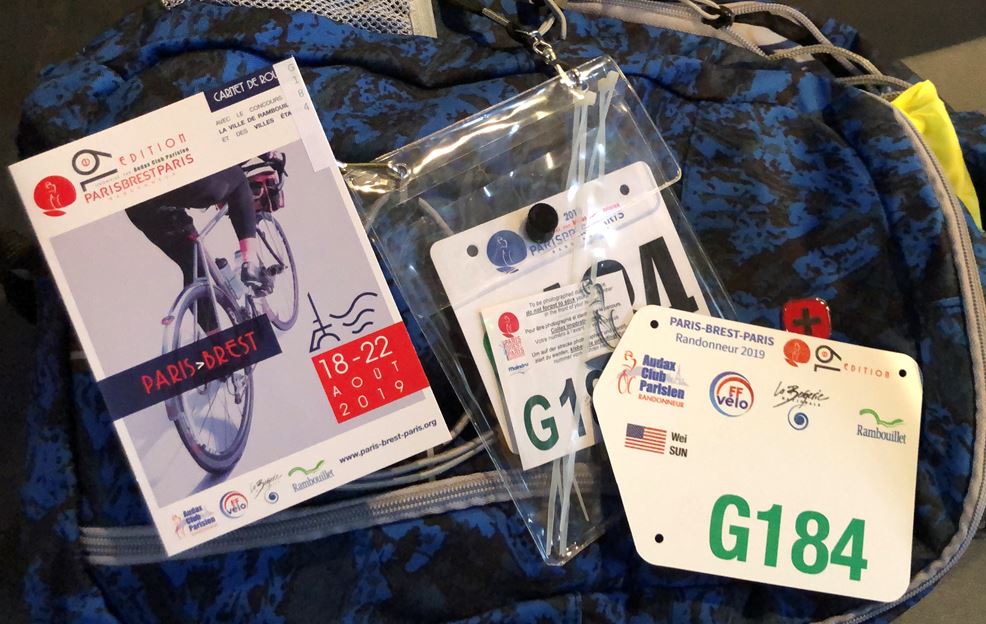 No Sunday Trading in France
If you need to get something before the start on Sunday, take care of your last minute shopping on Saturday before 6:00pm. The secular folks in France by law observe the Sabbath by closing up on Sundays.
Matt V noted that the Day of Assumption, a French national holiday, is on Tuesday, August 15, 2023. You can assume that most businesses (restaurants, grocery stores, etc) will be closed to observe this holiday.
On Sunday morning, your best place to grab breakfast and lunch is at your hotel if they serve food. Cafes in suburban neighborhoods are generally closed. Cafes in Rambouillet, thought open, will be packed with all the randonneurs congregating for the start. I suggest you enjoy your pre-start Sunday meals at your hotel unless you are able to find a restaurant that's open by your hotel. Another tip: if you want to have something to snack on at Rambouillet before you take off, buy your snacks on Saturday. In 2019, I bought a pack of sushi from Carrefour, stored it in my room's refrigerator and brought it with me to Rambouillet. Despite having enjoyed a hearty gourmet lunch at Auberge du Manet, I became peckish while milling around the chateau. Keep in mind that the start in the chateau is some distance away from the town where you can buy food. That sushi really hit the spot 2 hours before my start group took off.
Don't be surprised to find businesses shuttered during your visit to France for PBP. August is when the French take off on their extended summer holidays.
Bike Box Storage during PBP
Most hotels in St Quentin and Rambouillet know that visiting PBP participants will have bike boxes that need to be stored while you're on your epic adventure. They will provide storage for you. When I stayed at the Auberge du Manet, they kept my bike box in a storage room that I can easily get to when I finished.
Bag Drop for RUSA Members
An effort is afoot by several PBP alums led by an RBA to provide drop bag service for RUSA members. Out of respect for the organizer, I am not disclosing the details of that effort until they are set. Once I have the details, I'll share immediately.
On January 2, 2023, Deb Banks (RBA - DBC) announced that she, Mark Behning Eric Norris and Bill Green will be providing a drop bag service for PBP in 2023 for RUSA members. Here is Deb's announcement to the RBAs and the link to the interest form.
======================
I am writing with an announcement that I would like you to distribute to your riders. Myself, and three others (Mark Behning, Eric Norris and Bill Green) will be providing a Bag Drop service for PBP in 2023. Between us there are at least 14 PBP's, so we know what it takes to complete this fantastic riding event, and for me, a Bag Drop service was pivotal to completing the event (anyone remember 2007? Oof!). It is a way for the four of us to be a part of the Big Dance and volunteer providing a service for riders that can aid them in completion.
We have a plan, but at this juncture we are asking for you to distribute this Interest form to your riders. We'd like to get some feedback and the simple questions on the form ask what location they'd want a bag drop and how much they might pay for such a service, plus we are gathering names and emails to be able to send out a true registration when the time comes as we get closer to August.
We are NOT providing the type of service that shuttles bags to hotels along the course, or picks them up and drops them off at a host of hotels prior to the start. Our plan is to be at the check-in location, collect bags, take them to identified locations on the course, watch them for riders, and then return them to the check-in area at the end of the ride. Simple and straightforward.
I am asking that you please send this to your riders so that they can send in their interest and feedback to me.
Here's the link: https://forms.gle/VnJ5nwBoCHDKdNtE7
Ping me with questions and please fill out the form!
Thanks much,
deb (rba@davisbikeclub.org)
========================
I'll endeavor to update this page when I get more information. Smooth travels to PBP. Getting to the start is half the effort!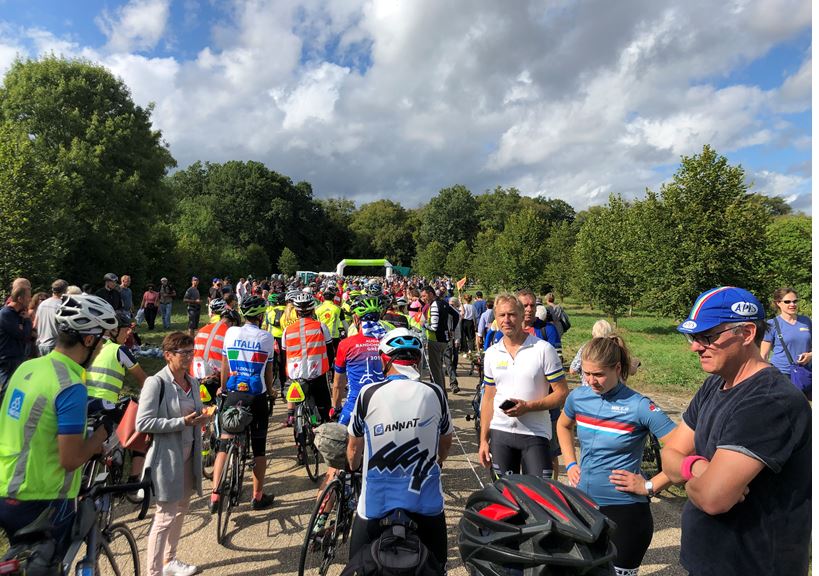 In 2023, one of these riders will be you at Rambouillet for the start!